Lessons PacMan Teaches Us About Motivation (or, why badges are here to stay)
By: Scott Schnaars, Badgeville Director of Sales, West
A common question that I hear from customers is "how long do you think that this badge phase is going to last?" I mean, we are already seeing some back lash towards FourSquare, do people really care about getting a badge for doing something on a site? And if not, what is next?
This past weekend, I became 100% convinced that badges, or their equivalent (trophies, plaques, rewards, ribbons, whatever), are going to be with us forever. Why? Ms. PacMan.
My family and I went out of town for the weekend. The hotel we stayed at had a free to play Ms. PacMan machine in the lobby. While I'm not able play like I used to when I was a quarter slugging kid at the Y, I was able to impress my kids by getting to the pretzel level on a single man (woman).
For those of a younger age, that aren't familiar with PacMan and his lady friend, Ms. PacMan, let me spin you a yarn. The premise of Ms. PacMan, the sequel to PacMan, is pretty simple. You cruise around a maze, eat dots and try to avoid being eaten by ghosts. Unlike PacMan, Ms. PacMan has levels, each level featuring a different food (usually fruits, but some how a pretzel got lumped in there). There are also 3-mazes that you need to complete of various degrees of difficulty. Again, the premise is simple, eat dots, kill ghosts, level up, get a badge – or in the case of Ms. PacMan, get a fruit.
The machine that we played also allowed the guests of the hotel to play a Galaga, maybe the greatest space fighter game in history. Again, the premise is pretty straight forward. You're the good guy and you've got to shoot down aliens. The game has different levels and for each level you complete, you get a, guess what, badge.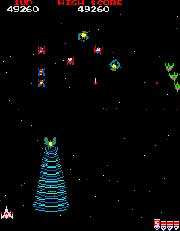 These two games came out in 1981. 30-years ago games were leveling up and issuing badges. Before that, Monopoly had badges (properties), collections of badges (all 3-properties of a single color) and levels (houses and apartments).
It is no secret that this premise of doing things, leveling up, getting a badge has been a part of games for ages, but the concept is in so many other parts of the life and that is why I'm convinced that it is here to stay. Maybe not in the 64px x 64px virtual rewards that we've been over exposed to in the past 24-months or so, but the concept has been around for so long that I'm certain it is here to stay.
I was speaking to a friend of mine the other day about this. She served 18-months with the Army in Kuwait and while I was explaining to her what Badgeville does, she said 'Oh, that sounds like the military. You do things, you level up, you get badges.' The longer you serve, the more you do, the higher level you reach, ultimately gaining the rank of 4-star general. Of course, there are a lot of other little things that you can do in between besides simply leveling up. You get badges for distinguished service, medal of honor, joint service and over 100 other rewards that can be 'unlocked'.
Education uses it. Do things (take tests, write papers), level up (go from grade to grade), get a badge (a gold star, an A, a PhD). Even sales teams live with similar types of motivation. We do things (close deals), level up (move up the team leader board) and get badges (gongs, lucite placques, commission checks).
The simple concept of do things, level up, get a badge is such a foundation for motivation and human behavior. Do things at work, level up (a promotion), get a badge (window office, nicer car). The more I think about it, the more I'm amazed that retail hasn't jumped on this in a huge way. They are starting to, but we are still a long way from the level that colleges have instituted over the past 200 years.
The whole point is that a social loyalty program, like the ones that Badgeville develops for it's customers, acts as the sales incentive program for your entire customer base. Whether your customers are shoppers, readers or contributors,when they do something, Badgeville can help them level up and reward them appropriately based on the actions that they complete.